This Autumn, the Little Learners Village is focusing on growing herbs and companion plants such as chives.
What you need to know about chives:
Chives are a species of perineal flowering plant in the Amaryllidaceae family. This is where they get their scientific name "Allium schoenoprasum", although they are also known as garden chives, common chives, and onion chives.
Chives grow to heights of about 20-30cm. Their foliage consists of long, hollow, cylindrical leaves and purple pompom-like flowers. Typically, the leaves are used in cooking and the flowers are used in salads, but both are edible. Chives are a close relative to leek, garlic, and scallions and are an excellent ingredient in many cuisines.
Chives are excellent companion plants. They grow well with just about anything! Tomatoes, apples, carrots, broccoli, peppers, potatoes, strawberries, grapes are amongst their favourites. Stay away from leafy greens and beans (bean, peas and spinach) as these have a harder time growing next to chives.
Chives are known to improve memory and cognitive skills while reducing the risk of developing Alzheimer's disease due to their richness in choline.
6 tips for growing and harvesting chives:
The best thing about chives is they thrive in all climates! All they need is compost-enriched soil, well-aged manure, sun, and water to grow.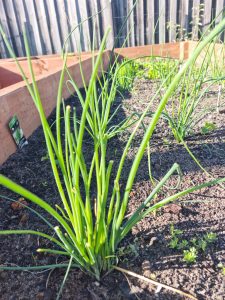 Chives can be grown from seeds sown in summer, autumn, or spring. Chives die down in winter because of the cold.
Sow seed directly in the garden or begin in punnets. Seedlings are easily established in gardens and start to rapidly grow.
Chives should be harvested from the outside in.
Never take more than a third of the plant at a time.
Remove the flowers to encourage a stronger flavour.
Water once or twice a week.
If you like chives, you should consider planting similar companion plants such as spring onion, tomatoes, and chilli.
For some delicious ideas, check out 7 things you can do with chives:
Top of a Baked Potato with sour cream – yummy!
Garnish for Creamy Soups – so good for winter!
Make a Flavoured Butter – spread between warm bread.
Season on top of Fish Fillets
Make a Salad and Add
Cook up Some Eggs – scrambled
Use in a Creamy Pasta Sauce – the perfect backdrop
What's your favourite way to use chives?  Do you have any other ways to use chives that I've missed?  Comment below: