This Autumn, the Little Learners Village is growing kale!  Kale has lots of healthy benefits and nutritional substances.
Kale is a member of the mustard, or Brassicaceae family, along with cabbage and Brussels sprouts.Kale has been closely researched in relation to managing blood pressure, boosting digestive health, and protecting against cancer and type 2 diabetes.
The benefits of eating Kale:
The nutrients in kale are believed to help fight against diabetes, heart disease and cancer, as well as improve bone health, digestion, skin, hair, and eye health. This is because kale contains a wide range of nutrients including fibre, iron, calcium, antioxidants, and vitamins C and K which all help to prevent various health problems.
For example, antioxidants assist the body in removing unwanted toxins known as free radicals. Experts believe free radicals may play a role in the development of cancer, inflammation, and diseases.
While kale can be extremely good for you, most people don't like its mild bitterness and strong earthy taste. Kale is a hearty leafy green with soft, thin, crunchy leaves. The best comparison of kale is bitter spinach. What most of you don't know, is this bitterness can be muted by a proper wash or a combination with other foods.
How to eat Kale
We've all heard of a juice cleanse or a green smoothie, and kale is one of, if not the, key ingredients to this!
Lately, so many "go-get-it" mums who are seeking a healthier lifestyle have been introducing juices and smoothies into their diets and daily routines. Juices and smoothies are perfect for being "on-the-go" because they are quick, healthy, and delicious!
An easy way to spice up your juices and smoothies to make them even healthier is to add kale to them. While kale is commonly bitter, if it is washed properly and combined with other nutrient-rich foods, kale can be delicious and nutritious.
Kale recipes
Here is a smoothie recipe for kale and banana (my personal favourite), as well as a link to a couple more.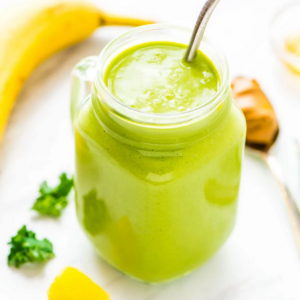 Ingredients:
1x banana
2x cup chopped kale
¼ cup light unsweetened soy milk
1x tbsp flaxseeds
1x tsp maple syrup
Method:
Place the banana, kale, soy milk, flax seeds, and maple syrup into a blender.
Cover, and puree until smooth.
Serve over ice.
For more fabulous smoothie recipes click here.
Or why not share your recipe for Kale below: